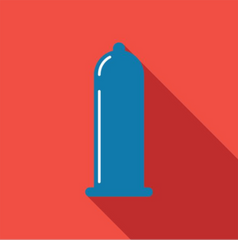 Condoms are a magnificent way to prevent unintended pregnancy and sexually transmitted infections (STIs). But they must be used consistently AND correctly. As the U.S. Centers for Disease Control (CDC) says: "The failure of condoms to protect against STD/HIV transmission usually results from inconsistent or incorrect use, rather than product failure."
If you don't use a condom correctly, this could result in breakage, slippage or leakage. That means you are putting yourself and your partner at a higher risk for STIs and unintended pregnancy. Using condoms consistently means using a condom every single time you have sex.
So, how can you make sure to use condoms consistently and correctly?
1. Use a condom from START to FINISH.

A condom can't do its job if you put it on after you've already started sexual contact. In order for condoms to be used consistently and correctly, put on a new condom before you start having sexual contact (anal, vaginal or oral) and keep it on throughout the entire sex act: from start of sexual contact to finish (after ejaculation).
2. Choose a condom that's right for you.
Did you know condoms come in various shapes, sizes, textures, flavors and colors? Latex stretches to amazing lengths (for example, you could technically stretch a condom over your arm or leg). 
But just because a condom will technically fit doesn't mean it fits comfortably. This is why our team at ONE has created different sized and shaped condoms. For example, our True Fit style is a snug fit condom that gives more comfort and pleasure. And there are various styles that can bring extra pleasure and excitement, like the Super Studs, FlavorWaves and Glow in the Dark!
Pro tip: If you use a condom that is too small, this may cause the condom to break. And if you use a condom that is too big, this may cause the condom to slip off during sex. Experiment with which condom works great for you and your partner.
Did you know condoms have an expiration date? If past the expiration date, condoms begin to lose strength and flexibility—which means they are more likely to break. The expiration date is on the back of the condom wrapper. You can see it marked "EXP: 11/2015" on the wrapper to the right.
4. ONE Condom, not two condoms.
Always make sure to use one condom at a time. And do not reuse condoms (meaning: you cannot wash a condom and use it again). 
5. Keep your condoms safe.
Store condoms in a cool, dry place (below 100° F or 40° C ) and avoid exposure to direct sunlight.
So, don't keep your condoms in your back pocket, or smooshed in your wallet. You could keep them in a ONE Condom Tin (wink wink).
6. Reservoir, oh reservoir. Pinching the tip.
The tip of the condom is called a reservoir: a space that holds the
semen after ejaculation. 
When you're putting on a condom, make sure to pinch the tip of the condom before you roll the condom down to the base of the penis. 
Pinching the tip prevents air from becoming trapped at the tip of the condom, and it leaves an empty space to collect semen after ejaculation.  
7. Roll ONE down the right way.

Before any sexual contact, place the condom on the head of the erect penis with the rolled side out. If the penis is not circumcised, pull the foreskin back before putting the condom on. If the condom does not roll down easily, it may be on backwards. Throw that condom away, get a new one, and try again rolling it the right way.
8. Lube is your friend.

Lubricant (lube) is amazing. Seriously. Not only can lube increase pleasure for you and your partner, using lube will help reduce the risk of your condom breaking during use. Lubes come in different styles such as water-based and silicone-based.
Pro-tips:
Put a drop of lube both inside the condom (before placing the condom on the penis) as well as outside the condom (after putting the condom on the penis).

Avoid using oil-based lube with latex condoms (see #9 below for more info).
9. But make sure to avoid using oil-based lubes with latex condoms.

Do not use oil-based lubes or products that made with petroleum jelly (e.g. Vaseline®), mineral oil, vegetable oil, or cold cream with latex condoms — as these may break down or damage the latex condom. So if you're using a latex condom, use lubes that are water-based or silicone-based.
10. Latex allergy.
ONE Condoms contain natural rubber latex, which may cause allergic reactions. If you or your partner are allergic to latex, consult a physician before use. There are different brands of condoms that are not latex-based, if you or your partner are allergic to latex. Experiment which style of condom works for you! 
Have more questions about condoms or condom use? Contact us!